Welcome to the Xen Online Wiki
Adventuring together since 2008
What is Xen Online?
---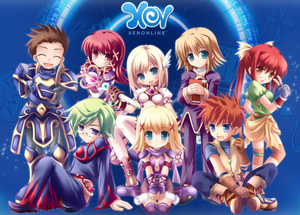 Xen Online is an anime-inspired, socially-oriented free to play massive multiplayer online role-playing game. The game offers 6 job paths and possesses a vast world, unique scenery, well-drawn illustrations, lots of monsters, special skills, and tons of costumes to customize your character.

In addition to the original name Xen Online, the game has also been known as:
Xenepic Online (Japan)
Secret of the Solstice (North America)
Legend of the Holy Spirit Online (China)
Xen Legend (Taiwan)
Games

---



Xen Online


Xenepic Lucky Strike


Xenepic Memories
Features

---



Occupations


Locations

Quests
Quests


Items


Monsters
Disclaimer: The Xen Online Wiki is a fansite and is in no way affiliated with DNC Entertainment and/or its subsidiaries or affiliates.
Contribute to This Wiki
---
The Xen Online Wiki is a Wiki dedicated to compiling all the stories, characters, and events that are part of DNC Entertainment's world of Xen Online.

Want to help out? Create an account and start editing!

Not sure where to start?
If you are new to wikis, see Wiki Text to learn the basics.
Read over Contributing for some tips.
Check out the Forums to see what the community is working on, to give feedback or just to say hi.
Current Community Poll
---
To see past polls, check out the poll archives.
Recent Forum Posts
---
<wikiaforum/>